Learning how to jump a dirt bike is one of the most fun and exciting aspects of riding a dirt bike. At 60 years of age I've been jumping motocross bikes for half a century. I can still remember the first time I caught air. If you're already jumping a motocross bike you know what I mean. If you're not, you don't know what you're missing. Sure many people think it's to dangerous. Sure it's not everyone's cup of tea but if it might be yours don't tip toe through life to arrive safely at death, so get out there and learn how to jump dirt bike…lol.
As you start to learn how to jump a dirt bike get some good motocross how to videos and/or get to a reputable MX School. There's even a Video On Demand (VOD) option available. These tips for dirt bike riding not only take all the trial, error and guess work out but also will save you from face plants, dirt samples and other unpleasant surprises.
When I started learning how to jump a dirt bike, back in the mid 60's, the sport was in the pioneer stages of sprouting it's roots in American soil. By the early 70s American riders like: Malcolm Smith, Barry Higgins, Brad Lackey, Jim Pomeroy, Marty Smith, Gaylon Mosier, Rich Eierstedt, Jim Winert, myself and many others were learning from watching the European racers. They were bringing the sport, which started in Europe back in the mid 1940s, to America.
The sport of motocross racing was already drawing crowds of over 150,000 spectators in Russia and Czechoslovakia. When it finally came to the US it quickly spread across America like wild fire. By the mid 70's and after the release of the movie "On Any Sunday" just about everyone had a dirt bike. Since then the evolution of motocross has undergone many changes but the thrill of riding a dirt bike is still the same. Ask anyone who has raced and they will all tell you the same thing, it gets in your blood and there's nothing else like it. Once it's in your blood your hooked.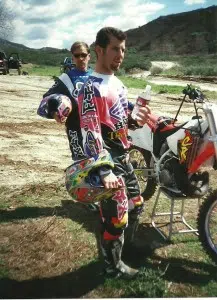 Now days riders have the benefits of learning from other riders who have gone before them. After winning an AMA Pro Supercross Title, at the age of 19, my pro racing career ending in 1985, I was only 30 and had nothing to fall back on. That's when I started making a new career out of what I already knew, teaching and coaching motocross riders through my hands on lessons and videos. I poured my life into it just as I had with my racing career. Back then in the mid 80's there were less than a hand full of motocross schools across the country.
By the mid 90's I was starting a big new step in motocross coaching as I coached the King of Supercross (Jeremy McGrath) into multiple Supercross Titles. Then I quickly started coaching other top riders and amateurs who would soon be top riders. Some of the names were; John Dowd, Kevin Windham, Ezra Lusk, Ryan Villopoto and many others. These days every top pro motocross racer has a personal trainer.
At this point in my life I'm happy to be retired from hands on training. Now I'm content to work on my how to motocross videos. In this subscription based video streaming platform there are currently over 130 titles that cover all the how to motocross riding, training and racing skills. If you want to learn how to master the skills of how to jump, corner, get the holeshot, do whoops or just general dirt bike riding lessons. Discover these time tested, proven, techniques, practice methods and strategies. Learn from my over 40 years of pro racing, practicing, training and coaching experience.  It really works, as 26 AMA Pro Championships don't lie!!!
Basic Motocross Jumping Tip
To execute the proper basic jumping technique you should be standing in the central body position. As the rear wheel rebounds from the jump you have to nudge your body position back, which will also cause you to nudge back on the handlebars. The steeper the jump face is and the faster you hit it the faster and harder you will have to nudge back in order to make the bike fly level or how you want it to fly (the front end a little higher or lower).
Okay so that's how your body movement controls the jump. Now let's take a look at how the throttle controls the jump. When you throttle off of a jump (accelerate off the jump) the throttle will also keep the front end up. So the more you throttle off a jump the less you will have to nudge back with your body movements. And vice versa, when you chop the throttle off as you rebound from the jump the more you will have to rely on your body movements.
Two common problems many riders have is either jumping with the front end too low or too high. So now you can understand that if the front wheel is too low you're not using enough throttle and/or you're not moving back as you take off. If you're jumping with the front end too high you're using too much throttle and/or moving back too much.